TIME IS FLYING!!
WOW! It's already Mid-June, I've been on vacation/un-employed for more than a month now and it feels like I defended my thesis yesterday... I've been VERY bad at blogging, sorry everybody. I gotta fight for the computer here, things should go back to normal soon as I will invest a big 60$ into a router. I will work on submitting 3 papers to scientific journals all summer... not that I really want to, but its good data and will look better on my résumé!!
Lots of catching up to do:
1- My foot : Stupid stupid foot. I hate you!! I'm going to get the cortisone injection on June 23rd, hoping this will cure me. I could resume training about a week after the procedure. I also tried the physiotherapist in the meantime but without any significant results.
2- I got my Dad started really well on the Learn to Run program! We're at Week 5 and we're running 3 mins and walking 1 mins intervals for about 30 mins. We even kept with the running on our trip to Aruba. It's also the only running I've been doing these days as my foot is bothering me on longer runs...
3- Next race :

Quebec City

Half-Marathon /Demi-Marathon des 2 Rives (I will see you there
Leana
!). Friends of mine from Nova Scotia were doing the full and I decided to tag along and make a trip out of this. It should be fun and will give me a goal for training this summer.
4- Last race:

Cabot Trail Relay Race

was SO MUCH FUN! This is a great event, I'm happy I got the chance to participate. I didn't sleep the whole week-end but it was worth it. I did

Leg 7

which was shorter than the one I was suppose to do. But I just hadn't realised that I was trading distance (leg 14 is 20K) for monster hills…
My plan was to go slow on the uphills and then to hammer the downhills! And this is what I did. That 8:44 mile is real and I can't even do that for a 5K race… so I was going down fast! I was so afraid to be last and seeing the ambulance (who followed the last runner for the rest of the leg!) that I pushed myself a little too hard on the downhill. I had to walk the last little hill of my leg but after that, my energy was back and I finished strong. Pretty happy with my time considering the year I had, plagued with injury and life... and I only missed the mat by 2-3 mins… The rest is a real blur, wine, cheering runners at the night legs, sleeping well not really sleeping in a van, teaching lots of French swears and other X-rated sentences to my anglophone friends. LOTS OF FUN!
Our team finished last... but it wasn't about performance. This event is a lot more than a race, it's about friendship, cheering your teammates and having fun.
My week-end's best moment: meeting, talking and taking a pic with Ed Whitlock =)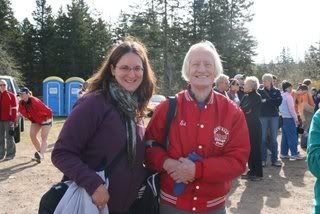 Mile 0.2 @ 10:56 min/mile
Total 8.2 miles in 1:27:45 @ 10:42 min/mile
More on my trip to Aruba in an upcoming post!! Happy Running to everyone who can!! =)